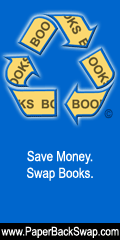 What rock do I live under?
I had no idea that there was a place to list your books and then send them to other people. Swap Books. What a concept.
You can search the site, and ask for a book, too, if you have a credit for it. You can get two credits, just for listing 10 books. You list the books by ISBN. It takes a whole minute. Any books. Not just paperback books.
You also get a book credit when someone signs up under you!
It only costs you the price to ship books, to others, as they are requested. At book rate. You can print the postage, right on the website, and wrap your book, with the paper or tape it to the envelope, that you put your book into, to ship.
Two of my books, that I listed, were requested, in the first 24 hours. One was on someone's waiting list, and then she was able to look at my list and request another, that she wanted.
Of course, with one of my credits, for listing ten books, I was able to order this..
You all must know that I'm crazy about Sarah Ban Breathnach and Simple Abundance.
One peak at the descriptions, I've read, about this book, and I'm ready..
Writing in the style so beloved by her millions of readers, and drawing on myth, literature, film, music, and drama, Ban Breathnach encourages each woman to discover what moves her to tears, makes her blood rush to her head, her heart skip a beat, and her soul sigh. Interwoven with the text are seasonal indulgences intended to restore weary feminine souls — recipes, rituals, decorating, fashion, and gardening hints. By encouraging her to delight in the often overlooked gifts of every day — from the aroma of simmering homemade spaghetti sauce to the sensation of freshly laundered linen against bare skin — Romancing the Ordinary is sure to help every woman fall in love with Life.
I decided to wait, to buy this, until after I worked my way back through the original Simple Abundance.. then also finished Something More, and Moving On.
But, for free books.. I'm so there!
Now to decide what books to swap and which to BookCross.