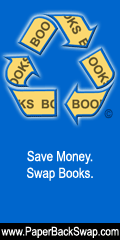 On my to-do-list, this week, I challenged myself to post one more book on paperbackswap.
I have a ton of books to part with.. because I have a ton on my wish lists, too.. but I wasn't sure what books would grab someone else's attention.
What I did know was this..
I found four books, that I wanted to read, that were available, for me, to request.
AND I only had one credit.
So, I went surfing through my bookcases, in the other room. I found a couple of cook books that didn't thrill me.. and I found some young girl LDS fiction books. Hmmm
What happened, over the course of the next 12 hours, was amazing.
Immediately, 6 of the books, that I posted, were on someone else's wish lists. What this meant, was that they had 48 hours, to respond, if they had enough credits, to have me mail them the book.
Within an hour, one had replied, affirmatively. I wrapped the book and prepared it to mail. I printed the postage and address label, right on paperbackswap. I paid a small fee, to have it all done, right on the spot, out of my printer. I chose the option that allows me instant credit, to request a book, once I had mailed the book. (Basically, when the post office scans and accepts the book, into their system, I get a credit.)
When I returned to my computer, after preparing the book, there were 3 more responses. As I was printing the labels and postage for those books, I was warned that more books had been chosen, from my list, by someone who had requested one of the books, that I was printing.
It stopped me, so I would update my queue, and be able to mail the books, requested, together.
Without going into too many details of my whirlwind day, on paperbackswap, I will just tell you that I mailed 12 books, to 9 different addresses.
Postage, for most of the books, was under $3. I think the one package with four books in it was around $3.19, if I remember right.
To use the automatic credit option, or to print postage, from paperbackswap, itself, you must add money to your account.
In total, I spent about $22, in postage, to mail those 12 books.
In return, though, I have 3 books on their way, to me, and 9 more credits to request more books to be sent to me.
Most of the books, that I've requested, are hardback and averaged $15-24, each. I can't put a price, of value, on a book coming, though, that is out of print, and very personal, to me, too. So, my $22 investment, to receive more credits, is very economical.
When I signed up, for paperbackswap, I was given two free credits, to request books, just for listing 10 books, into their database. After that, each book I send, allows me one credit, to request one sent to me.
Every person that I refer, to paperbackswap, that lists 10 books, also earns me one credit. There are further incentives, including money added to my account, that can be used, for postage, too.
Do you read? Do you have more books, you want to read, than the budget allows? Swap them and we all win!
(I was not paid to write this post. I do not have affiliate rewards for telling you about this book club. The only gain, I receive, is credits, to request more books, if you decide to join and list 10 of your own books. I wrote, this post, because I'm excited to reduce my budget, purge books, I no longer need, or never wanted, and add to my library!)